Legal/Disclaimers
All persons who use this website, and all clients and customers of Executours, Inc., d/b/a Executours Travel Service, A Branch of the Tzell Travel Group ("Executours"), should read and review these legal notices and disclaimers carefully. Please contact us if you have any questions or concerns.
No Liability For Errors
Information, pricing, offers, and printable material contained in this website and all links to other websites are obtained from and based on information obtained from third parties. All prices, rates, and fees are subject to change, cancellation, or withdrawal without notice. Executours reserves the right to correct any errors or inaccuracies in the content of this website and/or any linked sites or materials. Executours and its officers or employees are not liable and expressly disclaim liability for any incorrect or inaccurate information contained in this site or any linked site.
No Liability For Third-Party Sites
Some of the links on Executours' website allow you to leave our website. Linked sites are not under Executours' control and Executours is not responsible for the content, accuracy, truthfulness, or function of any linked site. Inclusion of any link to a third party site does not imply endorsement or approval by Executours. Linking to or using any third party site is at the sole risk of the user, and the user agrees that Executours is not liable for any loss or damage that the user or any other person may suffer in connection with use of any linked or attached sites or information of third parties.
Terms and Conditions May Apply
Prices, fares, and availability of travel arrangements fluctuate rapidly and may change without notice. Restrictions may apply. Reservations are not confirmed until any required deposit is made to secure the reservation, all conditions have been met, and you have received written confirmation from Executours. Cancellation fees and penalties of both Executours and suppliers apply to bookings of travel arrangements, including, cruises, packages, hotel and resort bookings, air tickets and other travel arrangements. Each vendor's terms, conditions, and policies will apply. Details of vendors' terms and conditions are available on their websites or in their brochures and written materials and also will be made available either at the time of booking or upon request.
Executours reserves the right to cancel any reservation or booking for lack of payment, failure to comply with Executours' or vendors' terms and conditions, failure to meet minimum numbers of participants for group travel or packaged trips, or for any other reason deemed sufficient in Executours� sole discretion.
Executours reserves the right to withdraw, modify, or cancel any offer, price, term or condition at any time without advance notice for any reason in its sole discretion.
Executours Acts Only As Agent For Suppliers/Disclaimer of Liability
Executours does not itself provide any travel services, accommodation or transportation, including but not limited to air travel, land or sea travel, hotel or lodging accommodations, local travel at destinations, meals and beverages, ground transportation, guide or escort services, and other travel services. Executours and its officers and employees act solely as agents for Executours' suppliers assisting clients in making travel and vacation arrangements. Those suppliers include airlines, cruise lines, tour operators, rail and motor carriers, bus lines, limousine companies, hotels, wholesalers, contractors, guides and escorts, and others. These suppliers, and not Executours, actually furnish the travel services for Executours' clients and customers, including but not limited to lodging, transportation, and other arrangements.
Executours does not itself operate or provide tours, trips, ground services, or other services or goods of any kind. All such goods and services are provided by third parties.
Executours and its officers, agents, employees and affiliates are not liable for or responsible for any personal injury, property damage or loss of personal property, loss, damage, accident, illness, inconvenience, delay, change in itinerary or accommodations, failure of any provider to provide services or accommodations, or other acts or omissions of any kind, or which may occur in connection with any travel arrangements made by or through Executours or in connection with the service, maintenance, or operation of any airplane, vessel, train, automobile, carriage or other conveyance, hotel or restaurant, or food/beverage provider which is used in carrying out the traveler�s travel arrangements or provides goods, services, beverages, or meals of any kind.
Executours and its officers, agents, employees and affiliates expressly are not liable for or responsible for, and the traveler assumes all risks of loss or damage of any kind from any cause due to (1) acts or omissions of suppliers, their employees/agents/contractors/subcontractors, other travelers, third parties, or other persons not under the direct control of Executours; (2) defects or failures of equipment or instruments under the control of suppliers; (3) delays, changes in itineraries, substitutions of equipment or conveyances, cancellations of flights or other arrangements, interruptions of service, overbookings by suppliers or other acts or similar causes; (4) financial insolvency, default, breach of contract, or bankruptcy of suppliers or of any of their contractors or subcontractors; (5) acts of God, weather or climate, earthquake, flood, volcanic eruption, fire, acts of governments or other authorities, war or acts of war, civil disturbances, social or civil unrest, economic or societal conditions, terrorism or terrorist acts, riots, strikes or labor or work stoppages, mechanical or construction failures or difficulties, thefts, pilferage, criminal acts, illness or disability, epidemics or quarantines, traffic conditions or congestion, local laws or ordinances or acts of governmental authorities, disruption of advertised or published schedules, refusal of visas or entry permissions, and all other causes beyond the direct control of Executours; and/or (6) any and all risks and dangers incident to the sea, water, land, or air or to travel by sea, water, land, or air.
By making travel arrangements through or with Executours, the client acknowledges and accepts the foregoing waivers, releases, and disclaimers and agrees to indemnify, defend, and hold Executours and its officers, agents, employees and affiliates harmless and blameless from any and all losses, claims, damages, injuries, liabilities, costs, attorney�s fees, or other sums, arising from or otherwise related to any and all acts, omissions, or causes of any kind, including negligent acts or omissions of Executours or its officers, agents, employees, or affiliates.
The maintenance and operation of vehicles, vessels, aircraft, other conveyances, hotels and other accommodations, and services and instruments of other suppliers who may provide services in connection with travel is the sole responsibility of those suppliers. Those suppliers are governed by and subject to the laws of the country of operation and may not be subject to the laws or jurisdiction of the United States or any of its States. U.S. laws, standards, regulations, and codes may not be applicable to suppliers outside the United States, which typically are subject to standards of the foreign country or jurisdiction. Such standards often are less rigorous than and not as stringent as standards that may be applicable within the United States, and all travelers should therefore exercise special care and use heightened caution while traveling. Executours disclaims any knowledge or expertise and can give no assurance concerning standards applicable to suppliers or to the safety or reliability of their operations. Legal recourse for any accident or injury caused by suppliers must be filed in the country of operation and may be subject to limitation or proscription by local law.
Assumption Of Risks Of Travel/Travel Insurance
All travel has risks, dangers, and uncertainties. Travel to many parts of the world involves heightened risks to one�s health and safety, including but not limited to risks from terrorism, war or civil unrest, criminal acts, and illness. By traveling on arrangements made by or on behalf of Executours, you certify that you are physically, mentally and emotionally fit to travel and that you understand, assume and freely accept all risks to your safety and health. Executours recommends that all travelers consult with and be examined by their physicians to confirm that they are healthy and able to travel without injury or risk to their health or safety or to the health or safety of others.
Travel Insurance: Executours makes travel insurance available from various companies. Regular insurance policies may limit or exclude coverage available outside the United States. All travelers are urged to review their health, automobile, property, liability, and other insurance with their insurers, brokers or agents to confirm that proper and adequate coverage is in place in connection with any and all domestic and international travel. Travel insurance typically must be purchased prior to or along with final payment for the trip for which the travel insurance is purchased. Travel insurance provides insurance coverage that only applies for a covered trip. The purchase of travel insurance is not required to purchase any trip or any other product or service from Executours. You may already have coverage that provides similar benefits, and you may wish to compare the terms of this coverage with your existing coverage. If you have questions about your current coverage, call your insurer or agent. Executours is not qualified to answer questions about the benefits, exclusions or conditions of the travel insurance or to evaluate your existing coverage.
Terms, exclusions, and limits are governed by the coverage documents (available on request). Travel insurance payment is non-refundable.
Travel outside the United States is subject to requirements to obtain visas and other restrictions and conditions. Re-entry to the United States requires submission to passport and customs inspection and possible search. Non-citizens may have special restrictions or conditions for their possible re-entry to the United States. All travelers are responsible to verify that they have obtained all necessary visas and approvals, that their passports are valid and current, and that all necessary consents for travel to or entry into foreign countries and re-entry to the United States have been obtained. Additional information can be obtained from the consulates of countries to which the traveler will be traveling, from the United States department of Homeland Security, and from the United States State Department.
Department Of Transportation Disclosures and Consents to Post-Booking and Post-Sale Price/Cost Increases
All clients and customers of Executours are advised of U.S. Department of Transportation rules governing the sale of airline tickets, cruise packages with air component, and tour packages with air component. Each such client and customer acknowledges that he/she understands that the airline tickets, cruise packages with air component, and/or tour packages with air component he or she is purchasing or providing a deposit for is subject to supplemental price increases that may be imposed by the supplier and/or government after the deposit is made or the purchase is completed. Additionally, each such client and customer acknowledges, agrees, and understands that Executours may pass along such increases to him or her in order to offset increased taxes, fees, fuel surcharges and/or fluctuations in foreign currency exchange rates. Each such client and customer provides his or her consent for Executours to pass along any such price increases to him or her and authorizes his or her credit, debit or charge card to be used to offset them.
Registered California Seller of Travel
Executours is a registered California Seller of Travel. Executours' Seller of Travel identification number is CST 2002434-40. Registration does not imply approval or endorsement by the State of California or any government agency or authority.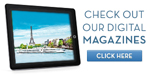 The Travel Magazine and Ultimate Experiences Online presents a unique collection of articles, photos and videos to help make your travel dreams a reality.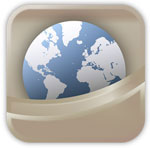 Our free app that allows you to carry all of the destination information you need while traveling, right in your pocket!