Privacy Policy
Executours is committed to protecting your privacy. Please read the following Privacy Policy to understand how your personal information will be treated as you use this website. When you use this website, you consent to the use of your personal information by Executours as described in this Privacy Policy. This Policy may change periodically, so please check back and review this policy from time to time.
Executours does not collect any personally-identifiable information from you (e.g., name, address, telephone numbers, e-mail address, social security number, and other personal information) ("Information") unless you voluntarily choose to disclose such information to us, including information submitted or disclosed through this site or by mail, telephone, fax, e-mail, or otherwise. That information may be collected from traveler profiles that you submit through our server, email, or in hard copy. We request travelers to submit profiles so that travel arrangements we make can be handled efficiently, promptly, and accurately. We will not sell, trade, or rent your personally-identifiable information to third parties. Executours will only use or disclose your information (a) to respond to your requests for information, (b) to send you (directly or through third party services or through our consortium, Signature Travel Network ["Signature"] or parent organization, Tzell Travel Group ["Tzell"]) Information that we believe may be of interest to you, such as details about our services, news, and special offers and opportunities, (c) in Executours' internal operations, and/or (d) to make travel arrangements or to provide related services to you or on your behalf.
Information from Children: Executours does not direct its website to minors. Individuals under eighteen (18) should check with their parent or guardian and obtain consent before using this website.
Monitoring, Enforcement and Legal Requests: Executours has no obligation to monitor the website or the use of the website, or to retain the content of any user session. However, Executours reserves the right at all times to monitor, review, retain, and/or disclose any Information as necessary to satisfy any applicable law, regulation, legal process, or governmental request or to cooperate with law enforcement and other authorities in investigating a claim of illegal activity. We may use IP addresses or other information to identify a user when we feel it is necessary to protect us or our employees, our service, our website, customers, or others.
Reviewing or Changing Your Personal Information: If you wish to review and/or change any of your personal Information maintained by Executours, you may e-mail your request to us or call us using any of the e-mail addresses or telephone numbers listed at our contact us form.
Other Sites: This Policy only addresses Executours' use and disclosure of information we collect from you. To the extent that you disclose personal information to other sites (including sites to which you may link from our website), you are subject to the privacy customs and policies of these other sites. We encourage you to ask questions before you disclose any personal information on other websites.
Information Provided to Suppliers and Vendors: We do not share or otherwise make available any personally identifiable Information about our clients to third parties, except to provide or arrange services on your behalf. The Information we pass on these purposes may be retained by airline, cruise and tour companies, hotels, and other vendors as passenger and customer records. Most, but not all, of these suppliers post their own privacy policies related to customer data. Executours has no control over the data it provides to such suppliers.
Online traveler profiles are submitted to a secure server. Trip requests and other information submitted through our website or sites accessible from our site are not encrypted or secured. No data transmission over the Internet, even to a secure server, can be guaranteed to be 100% secure. As a result, while we take reasonable measures to protect your personal information, Executours cannot ensure the security of any information you transmit to us or any information provided online, and you do so at your own risk. Executours will not be liable for disclosures of your personal information due to errors in transmission or unauthorized acts of third parties. By using this website to transmit any data or information, you waive and release any claims against Executours and its employees and agents related to the privacy or security of any such information.
Once we receive information you transmit to us, we will make reasonable efforts to protect the information in accordance with this Privacy Policy. Any personal information you provide to Executours is treated with discretion.
Privacy and security are important to us all. We monitor customer feedback and seek to improve our services to meet customer needs. If you have any questions about this Privacy Policy, the practices of this website, or your dealings with the website, or would like to provide comments, please contact us.
What Information We Collect and How We Use That Information
How We Protect Your Information
Questions About The Privacy Policy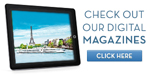 The Travel Magazine and Ultimate Experiences Online presents a unique collection of articles, photos and videos to help make your travel dreams a reality.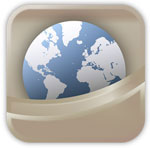 Our free app that allows you to carry all of the destination information you need while traveling, right in your pocket!